So you have decided that the Treaty Bodies are the right mechanism to support your work. Now what?
This Chapter gives you information on the opportunities that exist for civil society to engage with Treaty Bodies. It also offers some tools for you to engage effectively and strategically.
You can engage with the Treaty Bodies in several ways, and the method you choose will be dependent on the outcome you wish to achieve.
You can also engage with the Treaty Bodies without coming to Geneva.
Civil society can engage with the Treaty Bodies in these ways:
Periodic reviews – You can provide inputs before your country is reviewed and at the review. You can also observe the reviews on UN web TV, both live and recorded, follow up at the national level, and use the Treaty Bodies follow up and grading system.

Individual communications – You can submit a communication or a complaint to a Treaty Body about a human rights case. You can also use the Treaty Bodies follow up and grading system.

General comments – You can suggest and provide inputs to general comments or general recommendations produced by the Treaty Bodies, and influence its contents.

Inquiries – You can request a Treaty Body to initiate an inquiry or an investigation into well-founded allegations of 'serious, grave or systematic' human rights violations.

Early warnings and urgent actions – You can request an early warning to prevent the occurrence of an imminent human rights violation, or request an urgent action to remedy a serious human rights situation.

Following up – You can work with the Treaty Bodies after they have acted to ensure ongoing attention to an issue and push for change on the ground
There are other (less commonly used) tools of Treaty Bodies - information on these can be found in Chapter 2:
Third-party interventions (individual communications) – You can make a submission in regard to an existing case or communication before a Treaty Body (similar to amicus curiae interventions).

Country visits – You can meet with Treaty Body members who are undertaking a visit to your country. You can also invite Treaty Body members to attend specific events or for 'academic visits'.

Inter-state complaints – There is no opportunity for you to engage in complaints by a State of another State's actions.
Treaty Body Activities and Functions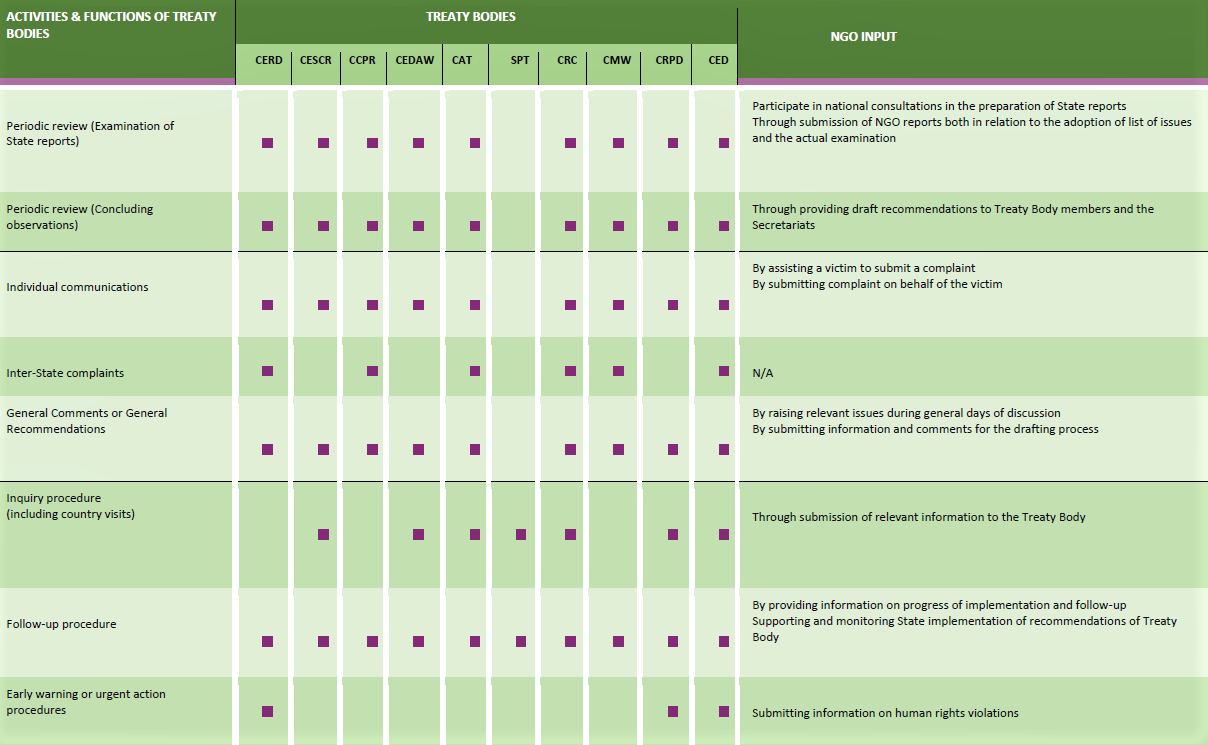 To view the table, click here
---
In the next sections, you will find information on how these opportunities might be useful to you, as well as tips on how to take advantage of them most effectively.